Moving Life ATTO Folding Mobility Scooter
Moving Life ATTO Folding Mobility Scooter
Moving Life
(Model:
ATTO)
What's Included

ATTO Scooter
Battery Charger
FREE Seat Cushion
3 Year Limited Warranty
With ATTO, nothing comes between you and your goals. See the world - and be seen - with ATTO. The smartest high-performance mobility scooter on the market.
| Weight | Weight Capacity | Top Speed | Drive Range | Warranty |
| --- | --- | --- | --- | --- |
| Front: 26.4 lbs, Rear: 35.7 lbs, Battery:4.1 lbs | 220 lbs | 6 mph | up to 10 miles | 3 Year Limited |
Moving Life ATTO Folding Mobility Scooter
ATTO - Moving Life's mobility scooter does not resemble anything else. Far from the looks of a heavy, clumsy scooter, it looks more like a robotic, cool gadget, an innovative product that companies like Apple and others will choose to develop.
Apart from the issue of flights, the ATTO is easily compatible for any vehicle, including mini cars and taxis. Taxi drivers usually drive away when they see a passenger on a scooter, the compact and easy folded ATTO no longer deters them. Apart from its ideal functionality, ATTO's unique design is also attractive and eye-catching.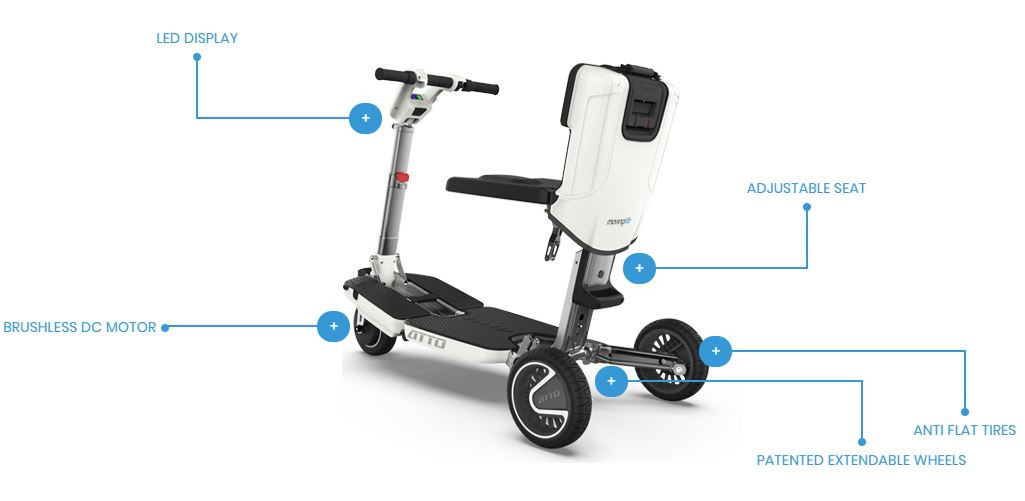 ATTO Mobility Scooter
While the compact folded unit splits in two for easier transport, ATTO comes together to form a robust full-sized vehicle with the best balance and use of space.
Multiple Modes
ATTO's revolutionary mechanism allows it to fold to a trolley suitcase and be split into two lightweight parts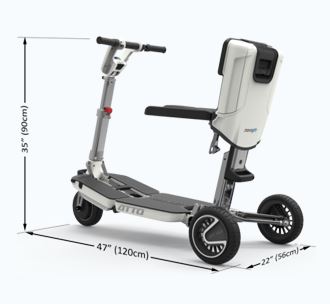 Drive Mode
62.2 lbs (28.2 KG) without battery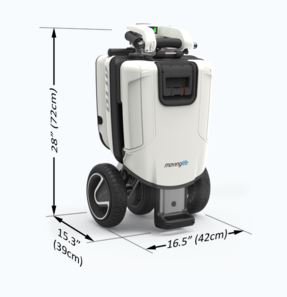 Trolley Mode
Compact trolley suitcase that can be taken with you on the train, on the plane or in the trunk in your car.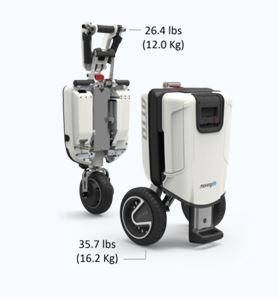 Split Mode
Two lightweight parts for easy lifting to your car trunk or up the stairs.
Moving Life ATTO Folding Mobility Scooter Features:
DESIGN: ATTO provides an unbeatable young and high-tech design
ADJUSTABLE SEAT: 3 fixed heights ranging 22 to 24 inches (56 to 61 cm) from the ground. with special 4th seat height for kids
MOTOR: Fully customized brushless, permanent magnet, DC motor
LIGHTWEIGHT: ATTO can be split into 2 lightweight parts which allow you to lift it with ease.
BATTERY: 48 Volt lithium-ion battery – 10-mile (16-km) range on a 4- to 5-hour charge
FOLDABLE: ATTO can be easily folded into a trolley suitcase which you can carry with you on the train or plane.
REVERSE
BUZZER
LED DISPLAY
FDA APPROVED
CE & TUV CERTIFIED
ALL SEASONS COMPATIBLE
Motor
Fully Customized
Brushless
Permanent Magnet
DC Motor
Robust Breaking Mechanism
Safety Tests
Safety: EN12184 Labeling: ISO 7176-15 EMC: ISO 7176-21
Risk Management: ISO 14971
Regulatory Compliance: EEC: Annex V of 93/42/EEC
Charger
UL- and CE-approved
Self-shutdown functionality
110-240V AC
Materials
Aviation-grade aluminum
High-tech plastics
Nylon-enforced ABS
PU filled non-pneumatic tires
Dimentions in Trolley Mode
28"H x 15.3"L x 16.5"W
Dimensions in Drive Mode
35"H x 47"L x 22"W
Front Half Weight
26.4 lbs.
Rear Half Weight
35.7 lbs.
Assembled (w/o battery)
62.2 lbs
Battery Weight
4.1 lbs.
Weight Capacity
220 lbs.
Battery
Safety certification: IEC 62133
Sea and Air Transport certficiation: UN 38.3
250 W/h capacity
48-volt "non-spillable" lithium-Ion battery
A 4- to 5-hour charge delivers up to 10 miles (16 km) of continuous driving on average.
Speed
up to 6 mph
3-Year Warranty – All structural frame components, including: mobility scooter chassis, steering mechanism, seat mechanism, rear-wheel extensions, all welding.
2-Year Warranty – All electronic parts, including controllers and battery chargers. Service for the controller or battery charger must be carried out by an authorized Moving Life dealer. Any attempt to open or dismantle these items renders the guarantee void for that item.
1-Year Warranty – Drivetrain, including: motor, front-wheel fork and brake and battery. (Reduced battery performance is not covered if due to heavy use or negligence).