WHILL Model A Personal EV Power Wheelchair
WHILL Model A Personal EV Power Wheelchair
Whill
(Model:
Whill-Model-A)
What's Included

Sherman Oaks Medical's Return Policy
Free Fast Shipping
Free Batteries
Free Charger
5 Year Limited Warranty
| Weight | Weight Capacity | Turning Radius | Top Speed | Drive Range | Warranty |
| --- | --- | --- | --- | --- | --- |
| 250 lbs. | 220 lbs. | 28" | 5.5 mph | 15.5 Miles | 5 Year Limited |
WHILL is a Personal Mobility Device
With simplistic beauty and revolutionary technology, WHILL provides mobility in a versatile, stylish, and unobtrusive way. Be seen for who you truly are while traveling anywhere you desire.
All Directional Wheel
Multi Terrain Access
Smartphone Connection
Customer Care
Your Life, Without Disruption
WHILL Model M moves seamlessly throughout your life and goes effortlessly where you want to go. It is the combination of both high performance and unparalleled beauty. WHILL Model M was engineered and designed to seamlessly integrate within the various rhythms of your life, whether at work, rest or play. It is powerful, elegant and intuitive. WHILL was founded and designed by former Toyota and Nissan automobile industry experts and engineers, and it's the world's first mobility device ever to feature All Direction 4WD, a proprietary core technology enabling advanced motion and complete terrain coverage.
Form Follows Function
Maneuver Comfortably:
28" turning radius is ideal for tight spaces.
Obstacle Clearance:
Clear curbs and thresholds up to 3" high for seamless transition.
Multi Terrain:
Ride over grass, gravel, pebble, and snow with ease.
Reliable Range:
Fully charged battery provides 10.6 miles of range on average.
Active Drive:
Maximum speed goes 5.5 miles per hour.
Overnight Charge:
8-9 hours to fully charge an empty battery.
Awards & Recognition
All Directional 4WDTM
We've taken our deep expertise in the automobile industry and applied the technology to personal mobility, enabling faster, effortless maneuverability in tight spaces and varied terrain. The All Directional Wheel Technology enables you to rotate with a minimal turning radius, making WHILL the highest performance motorized mobility vehicle in the industry.
Thrive in Any Environment
High power torque and large front wheels conquer rough terrains ad steep hills. Maneuver over grass, dirt, gravel, and snow with ease.
Set Your Pace
Our Acceleration Management System enables you to customize the speed and movement of your WHILL to better fit your driving preferences: fast, highly responsive control navigation or more subtle and easy control response. Better yet, you can control turn forward and reverse speed acceleration using the intuitive and easy-to-use WHILL app.
Remote Control
Wireless Bluetooth connectivity gives you the ability to control WHILL Model A even when not riding. Park your WHILL away from you when sitting on the couch to save space in the living room. Or let your companion control the remote while walking beside you, and not behind you, when having a conversation.
Speed Setting
Adjust speed and acceleration preferences on the fly to accommodate any situation. This provides versatility for indoor and outdoor use. For example, you can choose between Comfort Mode for a gentle driving experience inside your house and Active Mode to move quickly for when you take your dog for a walk at the park.
Seat Slide
You can have easy table access and transfer pivot points at your fingertips. Control the seat slide feature on your screen to make it easy to operate for everyone including people who have difficulties reaching the physical buttons on the side of WHILL's arm.
Move Freely
Gently lift the arms to put them in an up position and out of your way. Now you have more space to move.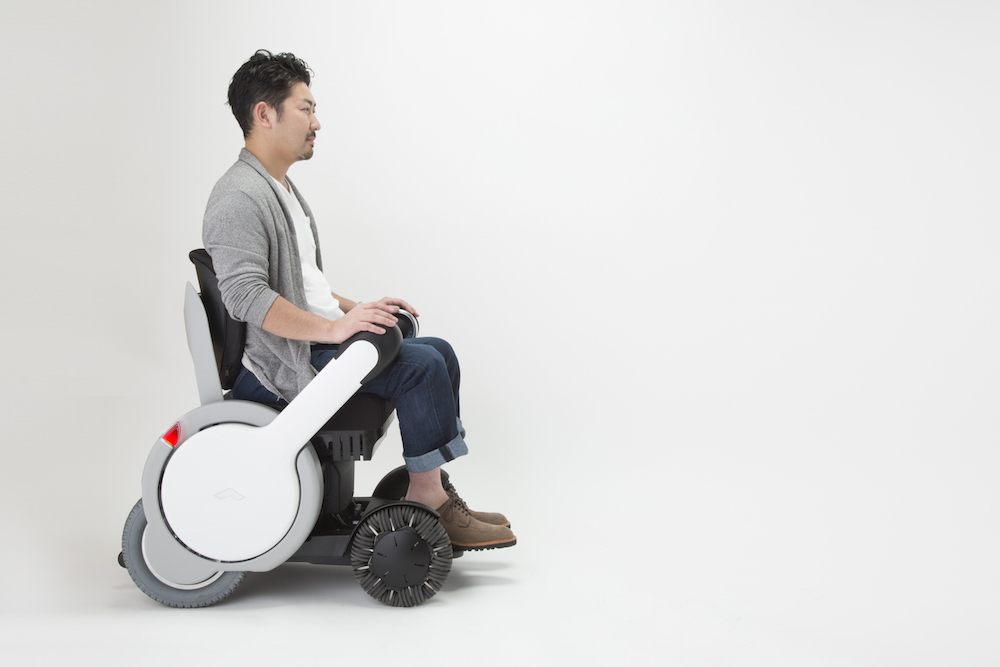 Easy Access
WHILL Model A's seat glides forward and back, allowing smooth transfers on and off the vehicle and flexible table seating.
Mouse Controller
An intuitive and minimalistic mouse control model. Controllers are highly accurate and interchangeable for right and left-handed users.
Ergonomical Controller
Designed to fit the contour between your thumb and index finger for effortless navigation. Controllers are highly accurate and interchangeable for right and left-handed users.
Leave Nothing Behind
A subtle hanger on WHILL's backrest takes your backpack wherever you need to go, keeping your most important belongings safe and secure.
Accessories
Keep your path visible by adding a flashlight that fits perfectly on the sides. WHILL is compatible with other accessories such as cupholders and smartphone holders.
Superior Customer Service
Our highly skilled engineers are committed to keeping your WHILL like the day you received it.
The WHILL Model A is not considered to be a medical device and has not been submitted to the Food and Drug Administration for review or clearance.
STANDARD FEATURES

Imperial

Metric

DRIVE SYSTEM
4 Wheel Drive
FRONT WHEELS
All Direction Wheel – Diameter: 9.8″
All Direction Wheel –
Diameter: 9.8″
REAR WHEELS
Flat-Proof Tire –
Diameter 12.5″
Flat-Proof Tire –
Diameter 318mm
GROUND CLEARANCE
3.5″
89mm
OBSTACLE CAPABILITY
3″
75mm
INCLINE CAPABILITY
10°
MAX SPEED
5.5MPH (in US)
8.9KPH (in US)
SPEED SETTING
High / Mid / Low Speed (3 speed)
BRAKING SYSTEM
Electromagnetic Brake
TURNING RADIUS
28″
710mm
ELECTRIC SEAT SLIDING FORWARD AND BACK
5.9″
150mm
RANGE
15.5 miles
25 km
BATTERY
12V 50Ah × 2
CHARGER
6A Charger Model M
Charge time: 8~9 hours
CONTROLLER
Mouse Controlling System (Single Hand Controller; Either Right Hand or Left Hand)
Mouse Controller or Ergonomic Controller
SOFTWARE
Bluetooth LE
TAIL LAMP
LED Light (RED)
WEIGHT
283lb (Battery 34.8lb each)
128kg (Battery 15.8 kg each)
WEIGHT CAPACITY
220lb
100kg
WIDTH
23.6″
600mm
CONFIGURABLE OPTIONS

Imperial

Metric

HEIGHT
32″, 33″, 34″
812mm, 838mm, 863mm
LENGTH
37″, 38″, 39″, 40″, 41″
940mm, 965mm, 990mm, 1015mm, 1040mm
ARM ANGLE
45°, 48°, 51°, 54°
ARM HEIGHT POSITION
0″, 1″, 2″
0mm, 25mm, 50mm
SEAT ANGLE
5°, 8°, 10°
SEAT LENGTH
16″, 18″, 20″
406mm, 457mm, 508mm
SEAT TO FLOOR HEIGHT
20.6″, 21.4″, 22.2″ (Plus cushion)
524mm, 544mm, 564mm (Plus cushion)
FOOT SUPPORT ANGLE
0°, 5°, 10°
FOOT SUPPORT HEIGHT
5.3″, 6.3″, 7.3″, 8.3″
135mm, 160mm, 185mm, 211mm
FOOT SUPPORT POSITION
0″, 1″, 2″, 3″, 4″
0mm, 25mm, 50mm, 75mm, 100mm
BACK SUPPORT ANGLE
5°, 10°
OPERATIONAL ENVIRONMENTS

Imperial

Metric

MAX OPERATING TEMPERATURE
122°F
50°C
MIN OPERATING TEMPERATURE
-13°F
-25°C
MAX STORAGE TEMPERATURE
149°F
65°C
MIN STORAGE TEMPERATURE
-40°F
-40°C
IP CODE
IPX4 Water Resistant
Warranty Info for WHILL MODEL A Personal EV
5 years on base and seat frame
1 year on mechanical and electrical components
6 months on the batteries and tires