E-Motion Dual Drive Power Assist System
Alber USA
(Model:
M-15)
E-Motion fits almost every standard active wheelchair and provides extra power for each start-up movement to comfortably travel longer distances or easily climb slopes.
| Weight | Weight Capacity | Top Speed | Drive Range |
| --- | --- | --- | --- |
| 44 lbs. | 296 lbs. | 3.7 mph | 16 miles |
E-Motion Dual Drive Power Assist System
The e-motion combines active mobility with therapeutic benefit. Even wheelchair drivers with limited arm and body strength can gain back their mobility with e-motion. The electric motors that are integrated in the wheel hubs effectively support the wheelchair user which has to put in much less effort to travel greater distances or slopes.
E-Motion Dual Drive Power Assist System Features: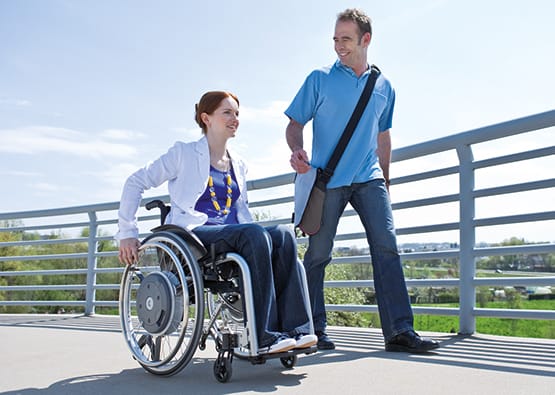 Easier to push easier in everyday life
Mastering everyday life often requires considerably more physical effort for wheelchair drivers. This effort sometimes becomes almost unsustainable with progressing age or illness. The electric e-motion add-on drive is the ideal solution to master this challenge: Every pulse on the push rim is registered by a highly sensitive sensor and translated into the perfect amount of electric power assistance. As a result propelling a manual wheelchair becomes much easier
Keep fit and preserve your joints
Sitting in a wheelchair also results in various specific problems for the body. To maintain the physical fitness as long as possible, it is important to use a manual wheelchair instead of an electric wheelchair. The e-motion keeps wheelchair users active, expands their mobility and trains their vitality. At the same time, the strain of muscles and joints is minimized, thereby protecting them from premature wear.
| | |
| --- | --- |
| Batteries | 25.2 V; 6.0 Ah; Lithium-Ion, leak-proof and maintenance free |
| Charger (input) | 100 – 240 V AC |
| Charger (output) | 30 V DC |
| Operating voltage | 25.2 V |
| Speed | Adds 0-3.7 mph |
| Power-rating | 2 x 60W motors |
| Climbing capability | Restricted to wheelchair model |
| Range* | Up to 16 miles/charge |
| Maximum Permitted Total Weight* | 296 lbs. |